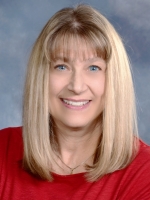 Administrative Assistant & Bookkeeper
(843) 756-7385 ext. 1
Paula has over 30 years' experience as an Administrative Assistant and Bookkeeper. Her favorite jobs have been working in a church environment as an Administrative Assistant and as a Daycare Director. She has always been very active in her home church as a Children's Church Director and in Children and Youth Ministry.
She relocated from West Virginia to the North Myrtle Beach area over 15 years ago. She and her family visited the Grand Strand several times a year for many years since her youth, so she has always considered this to be her home away from home. When the opportunity came to move here, it was more than a dream come true!
She feels very blessed to have such an awesome family. She has three amazing sons. Her oldest son is a US Army Lieutenant Colonel; her middle son is a US Army Ranger Major; and her youngest son graduated from The Citadel, The Military College of South Carolina, and is a Captain in the US Army. They are all three her true heroes!!
March of 2021, she became a grandmother of a beautiful baby girl. What a blessing!
She is also an avid dog lover and enjoys her two dogs and two grand dogs.